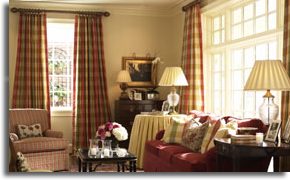 Delightful to the last detail.
Our company began with a simple search for draperies. When our founder encountered, frankly, outrageous prices and complicated procedures for ordering what she wanted, she made it her personal mission to find a better way.
Just leave it to a highly determined woman to change how it's always been done. Now, Casa Fiora is the source that gives you custom options, letting you marry the details that suit your taste with the fabrics you love. And your draperies will be shipped in four weeks or less instead of the months required for most custom draperies. You'll find the same advantages with our pillows, table skirts and bedcoverings, designed to help you create an exquisitely coordinated home.
So visit your nearest Casa Fiora retailer and get to know our gorgeous silks, taffetas, linens and cottons – all constantly updated for the utmost style. As you consider your selections, we'd like to offer a little guidance along the way and a few points from Fiora's philosophy of life!