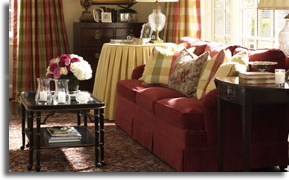 Grace any room with just the right touches.
Decorative Pillows and Bed Shams
Pillows, whether piled on a luxurious bed or placed on a sofa or window seat, are a great way to add color and put the finishing touches on your home for a professionally decorated look. Casa Fiora pillows are available in any of our fabrics, in most of the styles shown below, and you can purchase them as shams only or pre-stuffed with your choice of duck-down or fiberfill insert.
Pillow Options

---

---

---

---



Available Shapes and Sizes

For Bedding
Our Bed Shams feature matched fronts and backs with a generous overlap on the back closure and are available in Euro, King, Queen, Standard or Boudoir sizes. Available in all trim options.




For the perfect finishing touch we also offer neckroll pillows in most trim options except English pleat:

---




Decorative Pillows
Choose from 18" square, 22" square, 22" square with box corner or 17"x23" rectangular pillows to adorn your furnishings throughout the house. 22" square with box corner is not available with English, Tailored or Ruffled Pleats.