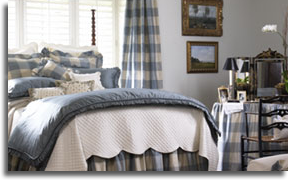 There's no such thing as too much beauty.
Can a bed be too inviting? What draws us in, whether we know it or not, is beauty's irresistible allure. And why not surrender? Go ahead and heap on the pillows. Create the covers you've been dreaming about. Coordinate your draperies and bedskirt. Toss in some extra boudoir pillows for good measure. Hold nothing back with our colorful silks, sumptuous taffetas and elegant linens.
---

Bed Skirts

There's no better way to create a unifying design effect in the bedroom than to complement your Casa Fiora draperies with your bed skirt.
Select a gathered bed skirt for a classic look or a box-pleated bed skirt for a dressier look.
Corner options include continuous fabric for non-footed beds or split corners for poster beds or foot boards.

---

Duvet Covers

Whether folded at the foot of your bed or tucked under your pillows. Casa Fiora's magnificent duvet covers always evoke a sense of luxury.
Of course, Fiora believes every detail of your bed should be perfect. So duvet covers come with self-backing and covered buttons, ivory or khaki 100% cotton sateen backing and ivory buttons, or Sunbrella® backing and ivory buttons. All feature self-cording for both beauty and weight. You can specify a duvet cover only or a duvet pre-stuffed with a duck/down insert. Plus you can select either a standard or tailored-pleat edge.
Our duvet covers are available in any of our fabrics except for silks with vertical repeats.
We now offer contrast duvets, so you can choose one fabric for one side of the duvet and one for the other, as well as contrast trim options. This versatility is a great way to customize your bedding ensemble and add your own touch of design.
On standard duvets, in lieu of self or contrast cord you can choose to apply trim, either inserted or top-stitched, allowing a more custom look with designer detail.

---

Bed Shams

Our fabulous shams offer yet another great way to put the finishing touches on the bedroom of your dreams. Casa Fiora's bed shams are available in multiple sizes and designs to provide layers of various shapes at varied price points. Click here to view all of our options for Bed Shams.

---

Coverlets

As an overlay to your gorgeous bedding, our lined and unlined coverlets add a perfect touch of style. The coverlets can be made of your favorite fabric selection, including Sunbrella® fabric choices that are especially durable and easy to clean, making them pet and kid friendly.
A single-layer coverlet can be turned under and stitched for a simple, tailored effect. Or your coverlet can be lined in ivory, khaki or Sunbrella® lining, or lined in a Casa Fiora fabric. When lined, it's closed stitched around the entire perimeter. Lined coverlets have all the same design options as our duvets. And all coverlets can be ordered separately or as part of a perfectly coordinated bedding ensemble.