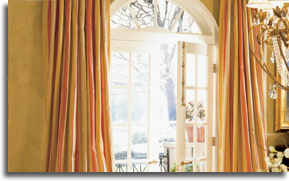 The forecast is...lovely.
With every fashion season, the colors change. That's why bringing you the most current colors and patterns is a constant process of staying ahead of each new trend. Whether you prefer the classics or the most contemporary looks, you'll find fabulous choices in the collections that follow.
We've created these collections to help you coordinate each element in a room from draperies to toss pillows to table skirts to bedding.
| | | | |
| --- | --- | --- | --- |
| Our brown collection engenders a comfortable and natural feel. With fabrics such as Darby Brown, Toffee, and Byzantine, you're sure to find something for tastes ranging from subtle to dramatic. | Cool, peaceful and surprisingly neutral, Rain Linen, Encino Stripe, and Carlisle Blue create some of todays' most sought after combinations. | From the elegance of Midnight black silk to the more graphic elements of Metro Chrome and Mirage Slate, our gray and black collection speaks to a contemporary audience. | Pinks, sienna, and corals deliver vitality to any room, especially when happily juxtaposed with bright, crisp greens. |
| Brown | Blue | Gray/Black | Pink/Coral |
| | | | |
| The calming effects of our green collection can transform an interior space into a soothing, while cheerful, environment. | Reds, deep umber, and rich merlots, provide fertile ground for the imagination. These sophisticated shades can be as traditional or as modern as you like. | Welcoming tones like Champagne and Yorkshire bring warmth to any room and balance with even the most formal gilded accessories. | Crisps silks, such as Snow and Sand, provide subtle sophistication in any environment. Never intrusive, they offer a high level of design possibilities. |
| Green | Red | Gold/Yellow | White/Cream/Tan |