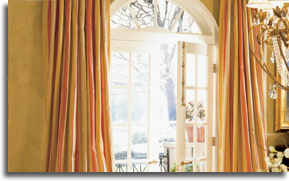 From elegant to casual, you'll find just the right fabric.
For every decorating style, we offer a fabric to match. And you can be sure we carry only the finest fabrics to enhance your home. The following is a brief description of the types of fabrics we carry:
An extremely luxurious, elegant, premium fabric. Perfect for formal, sophisticated settings.

A versatile silk for both casual and formal rooms. Visible slubs and weaving inconsistencies are natural characteristics.

Combinations of silk and other fibers that create a lustrous fabric with texture and dimension, as well as stability. These stylish fabrics are graceful and will add a touch of excitement to any lifestyle.

A classic weave with tailored sophistication. Good for semi formal or casual settings.

With a tighter weave than linen, cotton is ideal for casual applications.

Silk Taffeta
Silk Dupioni
Silk Blends
Linen
100% cotton

Polyester, rayon, acetate, and other synthetic fibers that produce durable and versatile fabrics which will tolerate light and soil.

Rich solid colors with the texture of suede create a warm feeling in any room.

A unique blend with cotton for durability and style. Perfect for casual living areas or as an embellishment to formal areas.

Sunbrella® brand fabric is a fashionable yet functional fabric with premier performace characteristics which include mildew, fade, and stain resistance.

High Performace
Micro Suede
Cotton Blends
Sunbrella® Acrylic
Sunbrella® is a registered trademark of Glen Raven, Inc.